Show me everything!
Large Piggy / Cat / Mouse Plate
Not suitable for your dinner, but certainly one to hold your crisps or pistachio nuts. The three piggies or mice or cats may even deter you from eating too many - you come away feeling very guilty. Height does not include the three beasts. Once you order, we'll contact you by email to confirm which beasties you prefer on the plate. PLEASE NOTE: we cannot post this to non-UK addresses.


Price: £ 45.00

Everything at Muggins is crafted by hand

Approx size in inches: 1.5 high x 11.5 wide x 11.5 deep

Approx size in cms: 4 high x 29 wide x 29 deep

Glaze finish: available in a plain glaze - more info

Large Piggy / Cat / Mouse Plate - examples
Please remember that all Muggins items are hand-made - the photographs below show a sample of the range available. Characteristics and glazes will vary for each individual hand-made item.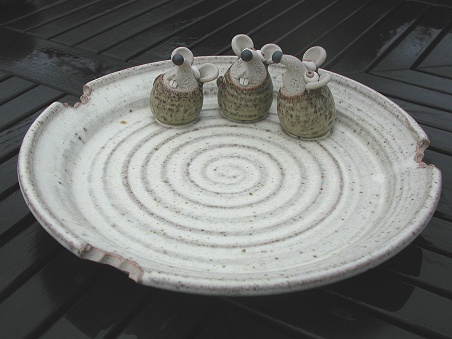 My husband bought me a Piggy moneybox that arrived a couple of days ago. I just wanted to let you know that I absolutely adore it and with it being handmade too, it makes it extra special.

A big thank you to the person/s that moulded and sculpted this wonderful piece of pottery.

Posted to Worthing, West Sussex