Show me everything!
Face Mug - half pint drunk
The Classic Muggins Face Mug. Each is unique - this one is slightly drunk. Fully vitrified. Roughly a half pint capacity but drinking from it could be a challenge.


Price: £ 20.00

Everything at Muggins is crafted by hand

Approx size in inches: 3.75 high x 3.75 wide x 4.75 deep

Approx size in cms: 10 high x 10 wide x 12 deep

Glaze finish: available in a plain glaze - more info

Face Mug - half pint drunk - examples
Please remember that all Muggins items are hand-made - the photographs below show a sample of the range available. Characteristics and glazes will vary for each individual hand-made item.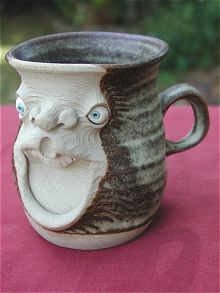 My husband bought me a Piggy moneybox that arrived a couple of days ago. I just wanted to let you know that I absolutely adore it and with it being handmade too, it makes it extra special.

A big thank you to the person/s that moulded and sculpted this wonderful piece of pottery.

Posted to Worthing, West Sussex