Show me everything!
Pottery Chained Dragon
A beautiful hand-made chained dragon. The dragons are secured to their perch by a hand-made clay chain, so they are ideal for the city dweller whose accommodation space is limited. These dragons take considerable time to make, and each is quite different. Photos show some that have been made in the past - the base can be either a rock or a Celtic column.

IMPORTANT NOTE: we cannot post this item - it is too fragile. We can arrange to bring one to a craft fair near to you, or you can collect from our pottery in Leicestershire. If you tell us where you are, it's possible that we could be passing close on another delivery, so we may be able to get it to you safely. Please contact us and we'll do what we can to help.


Price: £ 100.00

Everything at Muggins is crafted by hand

Approx size in inches: 15 high x 5 wide x 10 deep

Approx size in cms: 38 high x 13 wide x 26 deep

Glaze finish: available in a plain glaze - more info

Pottery Chained Dragon - examples
Please remember that all Muggins items are hand-made - the photographs below show a sample of the range available. Characteristics and glazes will vary for each individual hand-made item.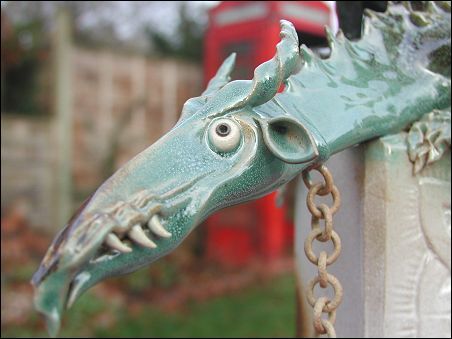 My husband bought me a Piggy moneybox that arrived a couple of days ago. I just wanted to let you know that I absolutely adore it and with it being handmade too, it makes it extra special.

A big thank you to the person/s that moulded and sculpted this wonderful piece of pottery.

Posted to Worthing, West Sussex